Meet Dr. Annie Schmidt
'No Way Was I Following the Family Tradition'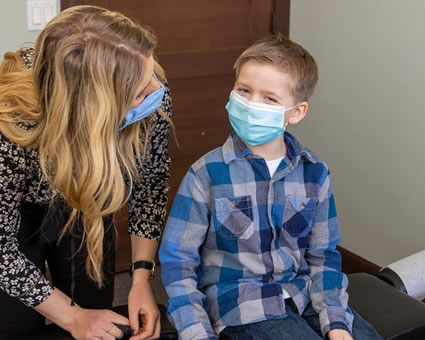 For many years, Dr. Annie thought, "Nah, chiropractic isn't for me. There are already 10 chiropractors in our family." It wasn't long, however, before the inner workings of the body piqued her attention. She shadowed her chiropractor father for a school assignment, and that was what changed her mind.
I saw how happy and fulfilled he was with his job, and how patients loved him. After that, I decided to become a chiropractor, and I never looked back."
Discovering the Difference of Chiropractic
Dr. Annie attended Life University West and began practicing after earning a Doctor of Chiropractic. She had long loved working with children, dating back to the days that she'd worked at a camp for kids with neurodevelopmental disorders while in high school. It was a natural choice to have a particular emphasis on pediatrics and pregnancy care.
It was during Dr. Annie's first year of chiropractic school that she went on a mission trip to China. There, she was put in the pediatric room. Up to that point, she wasn't aware that a chiropractor could specialize in pediatrics. In that room, Dr. Annie saw miracles happen.
One girl, about 10 years old, was nonverbal, just had heart surgery, couldn't look at anyone and clearly had neurological difficulties. Dr. Annie decided to focus on the girl's nervous and musculoskeletal system and see if they were functioning properly. After three days of working with Dr. Annie, the girl was smiling, then began speaking to others. That was the spark that kindled Dr. Annie's love of pediatric care.
The first couple of years of life are the most important for making sure all the right building blocks are there. Chiropractic can impact a child for the rest of their life."
Dr. Annie loves going to work every day, meeting a variety of people and sharing her passion for health with them. She is a member of the International Chiropractic Pediatric Association and is studying to become certified in pediatric care and the Webster Technique.
How She Sees Health
Dr. Annie has been a chiropractic patient for her entire life. When she entered college and was no longer living at home, she stopped living that chiropractic lifestyle. Though Dr. Annie was a former athlete, she no longer played sports. Dorm food was her everyday diet. From this combination of factors, she started experiencing health issues.
At first, Dr. Annie tried a symptomatic approach, just trying to get rid of the bigger problems. Her father and the rest of her family, however, stepped in and reminded her to get to the root cause of her issues-and that it wouldn't happen overnight.
This experience greatly shaped how Dr. Annie views health and the philosophy that she shares with her patients.
OUR SERVICES »
Family Is Everything
When she isn't in the office, Dr. Annie's happy place is being out on the water or traveling. Otherwise, you can find her hanging out with her friends and family. You'll meet her mom and dad at Schmidt Family Chiropractic, since they all work together. And right upstairs is Dr. Annie's uncle, who is a dentist.
Start Now
Ready to begin improving your health? Contact Schmidt Family Chiropractic today! Same-day appointments are available.

Dr. Annie Schmidt | (425) 258-1969